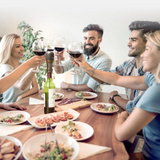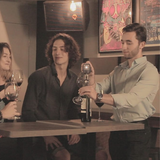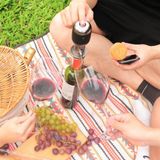 Vinaera Pro Adjustable Electric Wine Aerator
SKU: EMO1130-GML-EC-R
The World's First Adjustable Electric Wine Aerator! 
An on-tap design that is easy to use. Built-in electronic air pressure system, you only need to put the device into the wine bottle and with one-touch, it will dispense fully aerated wine at 1 ounce (28.5ml) every 2 seconds. 

Vinaera Pro runs on battery power (6  AAA - not included) and adjusts to suit any wine and your taste preferences. This elegant, electronic wine aerator is an impressive innovation in the world of good wines.

*Includes 1-year warranty
Easy, Fast, Effective, Time-Saving, and Fun!

Same effect as a decanter with instant aeration and the level of your choice. This innovative design can let the consumer decide the aeration time that best suit their tastes, instantly with a turn of a dial.



Key Features:

Adjustable aeration function

Stainless-steel telescoping tube is suitable for 0.75/1.5L wine bottles

Built-in sediment filter

Designed for assembly, easy to carry

Fine-tune the level of aeration to best suit any style of wine

We use our exclusive patent to let people quickly and easily "ADJUST" the aeration level to get the best aroma and aerated taste. It has the equivalent effect of decanting for 0-180mins, as selected by the dial. With just one tap, you can immediately experience wine at the optimal aeration level to your taste.

In addition, the new telescoping stainless steel tube with filter is designed to effectively maintain the red wine quality and the product base easy for storage.
Which wines should I decant?

Most red wines need decanting. Decanting times range from about 30 minutes to more than 3 hours depending on the variety, region, different terroir, and age of the wine.

If you wish to enjoy a red wine with full-bodied aroma, a mellow taste, complex layers and a lingering after-taste, the effect of aeration will be more obvious if you select red wines from grape varieties or growing regions with "strong tannins".

For example: Grape varieties such as Cabernet Sauvignon, Cabernet Franc, Syrah, Petite Sirah, Nebbiolo, Montepulciano, Malbec, Tempranillo, Sangiovese, Sagrantino ; and growing regions such as Bordeaux, Burgundy, Rhone Valley, Barolo, Barbaresco, Rioja, Jumilla, Napa and Chianti.
We recommend adjusting your dial between the 1/4 to 1/3 position as a starting point for most wines. As a rule of thumb, most wines between 3-7 years old benefit from around 45-60mins in a decanter.

Super bold and super tannic red wines will benefit from higher aeration level.
Suitable Wine

Vinaera Pro does not only work with red or white wine. It is also suitable for whisky, brandy, chinese white wine and other distilled liquor.
Product Base

Built-In Sediment Filter
Designed for Assembly, Easy to Carry
See What The Press Is Saying
This battery powered wonder uses a patented design to force the perfect amount of air into the wine...is it more fun to pour every wine from an electric tapon top of the bottle? We think it is!

For the wine connoisseur, Vinaera takes wine tasting to a whole new level.
Unlike manual aerators, which require more work, Vinaera's option takes the guesswork out of the process and serves up a perfect glass with ease.

Patents / Tests
Professional Sommelier's Review
La Chapelle Wine Boutique- Founder : BRETT
US ISG L2 / UK WSET L4 Candidate

Most of the wine decanting time is between 0-180 minutes using a glass decanter. Especially full-bodied, tight wines and some grape varieties with wine barrels that have heavy tannin structures, even more time is usually needed for the aeration.

Vinaera PRO adjusts to suit any wine and your taste preferences by providing an aeration range from zero aeration to the equivalent effect of decanting for three hours. It lets people have fun discovering how the same bottle of wine can have different tastes as well.

It is really convenient for wine lovers, it is really amazing.


What you will get
1 x Vinaera Pro – Adjustable Electric Wine Aerator (Batteries not included)

Dimensions
Main Body: L122mm x W57mm x H148mm
Telescoping Stainless Tube: 135mm ~ 335mm
Weight: 220g

Material
ABS/ Silicone/ Stainless/ Pump