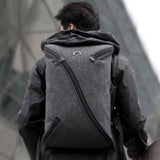 UNO II Backpack
SKU: THB1007-LGY-EC-R
The First Interchangeable Backpack.
The UNO II Backpack is a functional and essential day-pack for everyone. It combines style and practicality into one bag for your daily essentials. It is perfect for business people, office workers and students.
Packing and unpacking has never been easier. The UNO II is designed to allow unfettered access to all your items.
*Includes 1 year warranty.
Key Features:

Interchangeable panels for work, leisure or sport

Ease of use - Integrated design with single zipper

Fits up to 15.6" laptop

Durable eco-polyester exterior with water repellent coating


Anti-theft YKK Racquet coil zippers

Travel-friendly band that attaches easily to your luggage handle
Interchangeable Panels

Every UNO II includes a work panel which is super functional and fits snugly into the pack.

This padded panel holds a laptop securely and includes an additional pocket for mobile phones and small items.

When you're not at work, you can use the other 3 different types of interior panels specially designed for Cameras, Sports and Art. This is a separate add-on.


Ease of Use

It can be opened easily and quickly. This is because it has an integrated design with a single zipper.

The wrap around zipper design allows the backpack to be opened completely into a single flat surface that exposes the entire contents in a single motion

You don't need to fumble to find the small items like your keys - just open it and you'll see everything inside.

Water-repellent Fabric

It is made of a single piece of durable, water repellent eco-poly fabric that is scuff and wear resistant.

Anti-Theft Zipper Lock

Not only does it have a single heavy-duty zipper with full-metal pulls, but its anti-theft YKK racquet coil zippers lock easily with just one action.

Quick Access Exterior Pockets

The multi-storage UNO II has exterior pockets for quick access to small items like your passports and charging cables.

Travel-friendly band
Concealed Keychain
Tripod Attachment
Easy Storage
Add-on Panels


We also offer other 3 different types of interior panels specially designed for Cameras, Sports and Art.

Comes in Light Grey and Dark Grey

Light Grey
Dark Grey

What you will get
1 x UNO II

Specifications
Dimensions: 16 x 12 x 5.5 inches (Light Grey); 19 x 12 x 6 inches (Dark Grey)
Capacity: 30L (dark grey), 20L (light grey)
Weight: 1.18kg