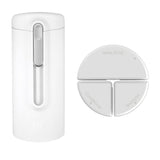 TIC Travel Bottles V2
SKU: KBO1003-WHT-EC-R
Travel With Your Bathroom Essentials With Our Smart Bottles
Tired of shampoo spills, ziplock bags, and dirty toiletry pouches?
Perfect for travel, gym or a mid-day shower, enjoy your favourite skin and shower products anywhere and everywhere with TIC Shower & Skin Bottle.
The TIC Shower & Skin Bottle is a lightweight, compact and sturdy portable liquid dispenser.
Key Features

Leakproof:

Its hard outer shell and sealed inner containers provide double-layer leak protection, so no more accidental and messy spills!

Carry on approved:

Each container is under 100ml, allowing you to carry on flights.

Easy to use:

Simply open the lid, turn it to your desired tube until you hear a click and press down the dispenser.
Travel Made Simple With TIC V2.0.

The TIC V2.0 compresses your entire bathroom cabinet into a compact yet elegant and intuitive travel bottle.

Lightweight & Portable

Organised & Convenient

Leak Proof

Comes with free cleansing tools, making it easy to transfer your products into the containers, and then easy to wash the containers when you get home.

Safe, Durable & Leak Proof

BPA-free and made with FDA approved materials.

Both bottles have passed the drop and pressure tests to ensure they will not break, bend or leak in transit.

Carry-On Approved

As each container is 100ml or less, which support the baggage check and the airline rules for a carry-on luggage.

Easy To Fill, Pack & Use

Each bottle contains removable internal containers that form a user-friendly travel dispenser – just press for what you need.

TIC SHOWER BOTTLE V2.0
(Available in Matte White/ Matte Black)
3 Smart sections (total: 200ml)

2 x labelled containers (50 ml each) for
Conditioner / Shampoo

1 x labelled container (100 ml each) for
Body Wash

L 8.3 x W 7.4 x H 16.9 cm

Weight 350 grams, Capacity 200 ml

Easy-to-remove containers with clear measurement markings

TIC SKIN BOTTLE V2.0
(Available in Matte White/ Matte Black)

9 Smart sections (total: 180ml)

4 x labelled containers (20 ml each) for Toner / Cleanser / Serum / Makeup Remover

1 x labelled container (40 ml each) for S-1

4 x labelled decks (15 ml each) for Day Cream / Night Cream / Eye Cream / S-1

L 8.3 x W 7.4 x H 18.8 cm

Weight 438 grams, Capacity 180 ml

Easy-to-remove containers with clear measurement markings