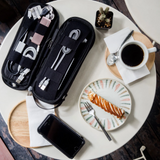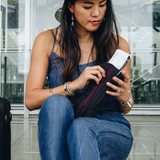 Power Packer
SKU: TSP1090-PUR-EC-R
The Compact Cable Organizer.
A compact and functional cable organizer to keep all big and small technology protected. It is ideal for use on holiday as your bag space is often limited while traveling.
The Adaptable Compression Panels cater for bulky items like travel adapters or laptop chargers as the panels conform to any shape. It keeps everything compact, organized and scratch-free.
*Includes 1 year warranty.
Organized and Compact

It saves space and has an extra-large capacity.

It allows you to carry multiple electronics like your laptop, mobile cables, chargers, portable hard disks, memory cards to and from work.

Multi-Functional and Unisex

When you're not at work, it can be used as a travel wallet or a make-up carry kit.

Its compartments are ideal for small items and is a versatile and multi-functional bag for both men and women.

High-Resistance Elastic Bands

High quality elastic bands hold your items securely.
Hidden Zippers

Reverse-construction zipper teeth disappear when closed.
Expandable Nylon

Extra-stretchy nylon weave for extra space.
What you will get
1 x Power Packer

Dimensions
Height: 10.25 inches (26 cm)
Width: 3.55 inches (9 cm)
Depth: 1.60 inches (4cm)
Weight: 240 g

Material
Polyester