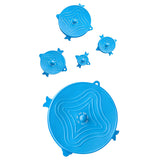 Two Pillars
UniLid Lid Set
SKU: HKO1007-GRN-EC-R
The Zero-Waste Lid For Food Containers of All Sizes.
The perfect, eco-friendly replacement for plastic wrap, the UniLid not only keeps your food fresh, but allows you to track how long the food has been stored.
The UniLid Lid Set comes with 5 lids.
The Universal Lid That Fits All Shapes & Sizes With Food Tracking
Key Features:

Universal design - fits all container sizes, shapes and materials

Leftover dial for tracking leftovers, weekly meal prep and overall fridge organization

Airtight and non-spill seal

Hook loop for efficient storage

Non-toxic food-grade silicone

Dishwasher safe (top rack)

Microwave, oven and freezer safe

BPA free

FDA & LFGB approved

CA Prop 65 compliant

Universal Design

It is compatible with containers of all sizes, shapes and materials.


Leftover Dial

Never risk eating expired food with the dial that tracks exactly which day you prepared or stored the food.

This makes tracking leftovers, weekly meal prep and overall fridge organization easy.

Airtight, Non-spill Seal

Preserve your food's freshness and flavor with the UniLid's airtight, non-spill seal.

Its contoured design allows it to wrap tightly around any container.
Hook Loop For Efficient Storage

Manage kitchen clutter by hanging the UniLid by its silicone hook loop.

It is designed to be compact so that it can be stored efficiently.

Safe To Use At High And Low Temperatures

The UniLid is heat resistant up to 230 degrees celsius (446 Fahrenheit). It is also microwave safe and oven safe.

Want to store your leftovers in the fridge? You can place it in the freezer, as it is also freezer safe!


Dishwasher Safe, Easy To Clean

It is dishwasher safe (top rack) for your convenience.

You can also hand wash and let it air dry. It is flexible and allows water to drain off easily.


Food Safety Certified

The UniLid adheres to a high standard of food safety. Not only is it approved by the Food and Drug Administration (FDA), but it is also LFGB approved.

LFGB is the German standard for testing silicone products that come in contact with food and is the standard for most European countries.

The LFGB certification tests are more rigorous compared to the FDA testing and the UniLid is compliant with the regulatory requirements of these professional bodies.

BPA-free, Stain And Odor Resistant

The problem with BPA is that it can leach from containers into beverages and foods and pose a potential health risk.

With the UniLid, you can be assured that it is safe to use directly on your food.

You can use it to preserve cut fruit, to keep a half-drunk canned drink fresh or to seal canned ingredients.

It does not stain or absorb odors, so you don't have to worry about having to clean residual stains.
Comes in 3 Colors
Blue Topaz
Green Honeydew
Clear Frost
What you will get
1 x UniLid Lid Set (5 lids)

Dimensions
Extra large lid - 21cm diameter
Large lid - 16.5cm diameter
Medium lid - 12cm diameter
Small lid - 9.5cm diameter
Extra small lid - 6.5cm diameter