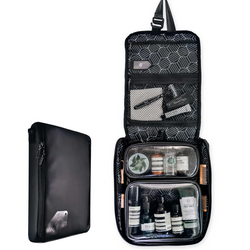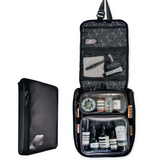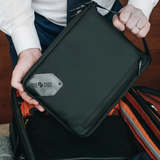 Travel Packer
SKU: TTB1022-BLK-EC-R
The Sleek & All-Purpose Toiletry Bag

A sleek and versatile toiletry bag organizer created for all travelers. It is designed to maximize the constraints of a small luggage space.
Make your trips more efficient and comfortable by carrying all you need in one bag.
*Includes 1 year warranty.
Key Features:

Multiple hanging positions, can adopt a standing, high hanging, or low hanging position

Mesh pockets to let damp items breathe and dry

Leak proof

Dual access zippers

Discreet pocket for discreet items

Quick access pocket with fixed lanyard for keys

Two detachable and leak proof Dopp Cubes in small and large

Minimum Size with Maximum Function

It saves space and has an extra-large capacity.

From shampoo to shower gels and facial products, it allows you to carry everything in one pack without appearing bulky.


Leakproof, Waterproof and Breathable

Don't worry about creating a mess in your bag with damp toiletries.

It comes with mesh pockets to let damp items breathe and dry too.

You can even hang it around your shower for easy access to the shampoo, shower gel and facial wash!


Multiple Hanging Positions

No two hotels are the same, that's why it is designed to function in different environments.

Let it stand, hang it high or hang it low. You decide.



Detachable Dopp Cubes

Dopp Cubes are mini compartments that fill the Travel Packer.

They can be removed to use on their own or placed in the Travel Packer and used together with other compartments.


What you will get
1 x Travel Packer
1 x Dopp Cube S
1 x Dopp Cube L

Specifications
Travel Packer
Height: 11.41'' / 29cm
Width: 8.26'' / 21cm
Thickness: 1.57'' / 4cm
Weight: 490g
Main fabric: polyester

Dopp Cube S
Height: 3.5'' / 9cm
Width: 7.87'' / 20cm
Thickness: 1.57'' / 4cm
Main fabric: polyester, eva

Dopp Cube L
Height: 6.3'' / 16 cm
Width: 7.87'' / 20cm
Thickness: 1.57'' / 4cm
Main fabric: polyester, eva