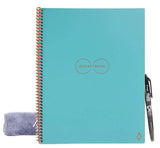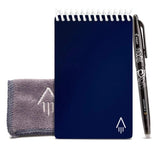 Rocketbook Everlast/Mini
SKU: ZNO1040-BLK-EC-R
Create. Scan. Erase - An Endlessly Reusable Digital-Physical Notebook.
The Everlast notebook provides a classic pen and paper experience, yet is built for the digital age.
It's endlessly reusable and pairs with the Rocketbook app to connect to all of your favourite cloud services - Google Drive, Evernote, Dropbox, OneDrive, OneNote, Slack, Box, iCloud, iMessage, or Email. 
When you write using any pen from the Pilot Frixion line, your writing sticks to Everlast pages like regular paper. But add a drop of water… and the notebook erases like magic!
*Includes 1 Pilot FriXion pen and 1 microfiber towel. Extra Pilot FriXion pens can be purchased locally at bookstores.
Write, Scan, Erase

& Reuse

Endlessly with the Rocketbook Everlast!

Write your notes, to-do-lists, or sketch your next big idea
Forget multiple notebooks, when all you need is a reusable one. The synthetic pages are waterproof and incredibly smooth to write on!


Blast your notes online to your favourite cloud services
Ready to access your notes anywhere? Mark the destination on your page and the Rocketbook app automatically files your notes in Google Drive, Dropbox & more!
Wipe your pages clean and reuse it over and over again!
When you are finished with your notes, simply use a damp cloth to erase it. The Rocketbook only works with Pilot FriXion pens (available at any popular bookstores!)

Not your regular notebook...
the Everlast

integrates

with your

favourite

cloud services!



Digitalise

your notes & access them anytime!

Pair & Connect The Symbols
The seven symbols at the bottom of each page are the magic "buttons" behind the RocketBook's quick and easy cloud organization.

Mark Your Destination*
Simply assign each icon to the destination of your choice - any folder inside Dropbox, Evernote, Google Drive, Box, Slack or your email address.
Scan With The RocketBook App



When you mark that icon on your page, the RocketBook app automatically files your notes in the right place.
"If you're looking for a smart notebook that sends handwritten notes to your devices, the Everlast is a really solid option based on its price, reliability, and simplicity."

"If note-taking is a large part of your day... consider investing in this smart notebook from Rocketbook."
"Rocketbooks are more than just your average notebook. It helps bridge that analog and digital divide by letting you sync your handwritten notes with an app on your phone."
3 SMART

Rocketbook Features

to boost your productivity

Navigating a folder full of files is way easier when you can find your files and notes!
With the OCR (Optical Character Recognition) technology, your handwriting gets converted into digital text.
Smart Titles

Tired of renaming your Rocketbook scans? We are too!

Place two handwritten hashtags (##) around your handwritten title (front & back) to name your file.
Smart Search

The Rocketbook app transcribes and embeds your notes into your scans making them easily searchable within the app or your preferred location.

Whether you are on Google Drive or Dropbox, you can search and find your notes within seconds!
Transcription

For every Rocketbook notebook scan you send to an email address, Evernote, OneNote or Google Drive account, we are able to transcribe your handwritten notes directly into your files. That's right - your handwritten notes will now turn into digital text!

For example, when you send an email, the app includes a complete transcription based on your handwritten notes. This way, you can easily skim the content!
What do people love about the Rocketbook?



"You get access to your notes online without additional typing, get to use something lighter and easier than your laptop to jot things down, and you only need to buy one notebook to end all future notebook purchases."
- Darren Lee, Engineer
"The Rocketbook is cost effective in the long run because of its reusability. It's perfect for organizing my daily work and meeting notes. I personally like that it's a classic pen and paper experience while being digitally connected."
- Ashley Ng, Digital Marketer
Great for students too -

revise smartly

with the Rocketbook!

When exam time comes, your child will not have to flip through piles of crumbled up notes or notebooks searching for the right page.

Use our app's smart title technology to automatically name your scans so you can easily search Google Drive for the revision notes you need.

Efficiency = Better Results!
The

future of notetaking

is here, get an Everlast today!

Letter Size (Slightly smaller than A4)
8.5 in x 11 in / 32 pages

Executive Size (Approximately A5)
6 in x 8.8 in / 36 pages

Mini Size (Notepad)
3.5 in x 5.5 in / 48 pages

What you will get
1 x RocketBook (infinitely reusable!)
1 x Pilot FriXion pen
1 x Microfiber towel