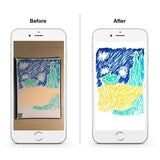 ROCKETBOOK COLOR
SKU: ZNO1037-WHT-EC-R
Magically Connected Drawing Book That's Endlessly Reusable!

Parents, we know your kids produce an astonishing amount of art. We also know you feel guilty about sending it to the graveyard (the trash can) and frustration of not being able to save it. But don't worry, we've got your back!
With the Rocketbook Color, you can instantly save and share your kid's creative masterpieces. The pages of Rocketbook Color are erasable when used with Crayola Wet Erase, Dry Erase and Washable crayons and markers. 
With a stroke of a crayon, you can instantly blast your kid's art to friends or family, or save them forever in popular cloud services, like Google Drive, Dropbox or iCloud.
Plus, the Rocketbook Color is endlessly reusable. Create, rinse... and repeat!
Preserve Your Child's Masterpieces With RocketBook Color!
Just Wipe with Water to Erase Instantly

Simply sprinkle a few drops of water onto a cloth and erase drawings instantly.

This works with the entire Crayola line of dry-erase products, which are safe for children and can be easily bought online. If you'd like to use other brands, that works too!

The pages are made with synthetic materials that are waterproof and are incredibly smooth to draw on.



Cloud Connected

Not only can you digitize instantly with the RocketBook App, you can also save them forever on the cloud so that you can retrieve them easily.

The app works with your favorite cloud storage services like Google Drive, Dropbox and iCloud.



No Tilted Drawings

Automatically flattens and separates the page from the background of the image.


Smudge-proof

Once the ink dries, don't worry about messing up your drawings!


Durable and Tear Resistant

Thick synthetic pages that are durable and tear resistant.


Works with Popular Dry-Erase Products

The pages are erasable when used with the Crayola Wet Erase, Dry Erase and Washable crayons and markers.

What you will get
1 x RocketBook Color (infinitely reusable!)


Specifications
12 Pages
8 blank pages for free-form art
2 dot-grid pages for structured drawings
2 lined pages for handwriting
Erases with a dry cloth when Crayola Dry Erase products are used
Ships without pens