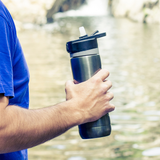 Quokka Stainless Steel Bottle SPRING
SKU: HDB1082-DGN-EC-R
The Ultimate Rustproof, Condensation Free Bottle for Outdoor Activities.
The Quokka Stainless Steel Bottle SPRING is built to withstand the harsh outdoor elements while keeping your beverage cold for up to 18 hours with its double wall vacuum insulation.
Quokka Stainless Steel Bottle SPRING

Key Features

Double wall vacuum insulated

Maintains cold beverages for up to 18 hours

Rustproof

Condensation free

No smell or taste absorption

Leakproof silicone spout

One handed quick opening system

Protective spout cover

Handle for easy transportation

BPA free

Detachable cap

Double Wall Vacuum Insulated

The stainless steel interior keeps your beverage cold for up to 18 hours with its double wall vacuum insulation.

Enjoy a refreshing beverage after a long hike or during an overnight camping trip.



Rustproof and Condensation Free

It is highly resistant to corrosion and remains rustproof in the face of harsh elements like heavy rain.

Also, it resists condensation so the outside of your bottle will stay dry when you drink from it.



Leakproof Silicone Spout

The silicone spout is secured by two u-shaped parts that fit snugly around the spout inside the bottle.

This makes it difficult for liquid to leak out of the bottle as there are almost no gaps between the spout and the inner part of the bottle

The u-shaped parts are fully removable for easy cleaning.

One Handed Quick Opening System

The one handed quick opening system means that having a drink can now be fast and effortless.

Simply press the button to open the lid!
Protective Spout Cover

The spout cover conceals the silicone spout fully when the bottle is not in use.

This prevents the spout from coming into contact with any harmful bacteria and keeps it clean.
Handle For Easy Transportation

Grip it easily with the handle on the top of the bottle.

You can also attach a carabiner to the bottle handle to secure it on your bag or bike.
Detachable Cap with Wide Opening

To fill the bottle with ice cubes, fruits or other toppings, just remove the cap and pour into the wide opening.

The wide opening also makes it easy to clean.
Bondi
Ebony
What you will get
1 x Quokka Stainless Steel Bottle SPRING

Specifications
Height: 250 mm
Capacity: 600 ml
Weight: 374g
Diameter of base: 81mm
Material: Stainless Steel
Dishwasher / microwave safe: No