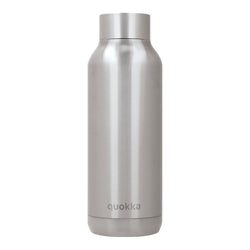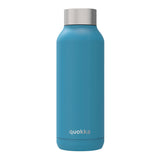 Quokka Stainless Steel Bottle SOLID
SKU: HDB1080-SLV-EC-R
The Stylish, Modern and Functional Lifestyle Bottle.
The Quokka Stainless Steel Bottle SOLID comes in a variety of on-trend designs while maintaining its functionality with its strong stainless steel structure.
Quokka Stainless Steel Bottle SOLID

Key Features

Double wall vacuum insulated

Maintains cold beverages for up to 18 hours

Rustproof

Condensation free

No smell or taste absorption

Leakproof

BPA free

Durable and break resistant

Double Wall Vacuum Insulated

The stainless steel interior keeps your beverage cold for up to 18 hours and hot for up to 12 hours with its double wall vacuum insulation.

Enjoy an ice-cold or pleasantly warm beverage after a long day!

Rustproof and Condensation Free

It is highly resistant to corrosion and remains rustproof in the face of harsh elements like heavy rain.

Also, it resists condensation so the outside of your bottle will stay dry when you drink from it.

Leakproof & BPA Free

The screw on cap seals the bottle tightly to prevent any leaks and accidental water damage to your items.

Also, the bottle is BPA free and beverages stored inside it are safe for consumption.

Available in Assorted Colors
What you will get
1 x Quokka Stainless Steel Bottle SOLID

Specifications
Height: 210 mm (510ml), 250 mm (630ml)
Weight: 262g (510ml), 299g (630ml)
Diameter of base: 72 mm (all bottles)
Material: Stainless Steel
Dishwasher / microwave safe: No