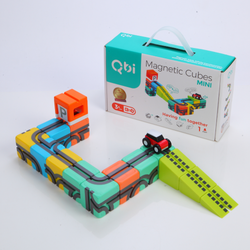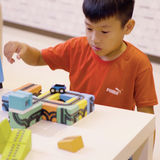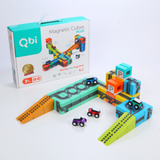 Qbi
Qbi Toy Magnetic Modular Block Toys (Stem-Certified)
SKU: RTO1059-EC-R
Unleash your kid's creativity with QBI magnetic blocks & cars! 
QBI is hands-on, open-ended, and STEM-certified, with over 100 ways to play. 
It is not only a toy but a perfect teaching aid for STEM education. It helps boost children's logical thinking, spatial abilities, creativity and problem-solving skills as they build different tracks and modules.
By playing with family members and peers, children can develop their communication styles, teamwork skills and leadership abilities.
For preschoolers (2 - 4 years old) - Improves dexterity and hand-eye coordination

For ages 5 and up - Boosts creativity, spatial abilities and problem solving skills
Great for family time or independent play. Unplug screen time and enjoy endless possibilities of fun while learning!
Roll into adventure with QBI Toy - a hands-on, open-ended, and STEM-certified toy that combines magnetic blocks and racetracks!

Key Features:

6 Different Tracks - Each side of a magnetic cube has a different type of track.

Challenge Cards - Create different interactive experiences with challenge cards to expand the depth and difficulty of the game!

Push & Go Car - Weighted for easy movement, put them on the track and give them a push, or roll the back wheel forward to speed 'em up!

Bouncy Bridge - Want a more exciting race? The QBI Bridge brings your game to another level with cliff jumps —and no derailing.

6 Different Tracks, Over 100 Combinations Of Play Style!

QBI's track square toy is a constructive magnetic toy that can be expanded infinitely.

The track magnetic blocks make is easy and fun to play. Through the process of playing, it cultivates your child's personal logic, space, creativity, and gradually developing communication, social, and leadership skills.

The gameplay is changeable and unique every time. With 6 different tracks and over 100 different combinations, there is endless possibility of fun!

Learn as you play - designed for kids of all ages!

6 Different Tracks
Each side of the magnetic cubes has a different type of track (curve, straight, intersection, etc).
Connect Easily
All QBI block come with perfectly paired magnets and stick together for little hands to connect easily.
Design your own racing game
Each track can be freely connected. It is easy to assemble and transform. Let your child's imagination run wild and create dozens of road options with our complete building kit!
Add twists and turns, conquer different types of terrain!

L-Turn
Slow the car down so it won't go off the track

Cliff Jumping
Speed up the car to fly over the cliff

Uphill or Downhill
The car can race uphill and zip back down

Ready to turn it up a notch?
Expand the depth and difficulty of the game with our challenging playing cards!

Beginner Gameplay
Kids will learn how to arrange the combination of tracks from the picture shown.

Intermediate Gameplay
The grey square matt shows minor hints at a few key track block positions. The kids will then use their imagination to complete the track.
Advanced Gameplay
Free-range play! Kids do not look at the challenge card. They create their own tracks and find ways to let the car run completely through the tracks. This tests their creativity and builds problem solving skills!
The Perfect Teaching Aid For STEM Education

Playing with blocks helps kids develop their vocabularies, logical thinking, spatial awareness and social skills.
They will also learn how to describe colors, shapes, sizes, and positions as they build various structures.

Younger kids can enjoy building tracks with the blocks. Older kids can follow the graphs on the challenge cards and their own complete missions.

Great For Family Time Or Independent Play!

The QBI Modular building block encourages parent-child or peer-child interaction. Choose from a set of different scenes to build, or create your own custom scene.

By playing with family members and peers, kids can develop their communication styles, teamwork skills and leadership abilities.

No matter what age you are, the whole family can work together to build a more complicated module!

See Why Parents & Teachers Love It!

A Great Addition To Any Home

QBI is easy to store and keep organized. When your kids are done playing, simply stack the blocks and let the magnets keep them neat. Think of your kids' colorful blocks as creative home decoration!


Bring Creativity Home Today!

What You Will Get
Plus Pack - 39 pieces

1. Cubes x 25 (Green*10, Blue*5, Orange*5, Yellow*5)
2. Cars x 4 (Red, Blue, Green, Purple)
3. Slopes x 2 sets (Green, Orange)
4. Garage x 2 (Orange, Green)
5. Table Challenge Book x 1 set (10 pieces)
6. Instruction Sheet x 1

Packaging Size
370 x 270 x 75 mm

Weight
2.3kg

Mini Pack - 17 pieces

1. Cubes x 10 (Green*4, Blue*2, Orange*2, Yellow*2)
2. Cars x 1 (Red)
3. Slopes x 1 set (Green)
4. Garage x 1 (Orange)
5. Table Challenge Cards x 1 set (10 pieces)
6. Instruction Sheet x 1

Packaging Size
270 x 160 x 75 mm

Weight
1.2kg



Specifications
Material
Rail blocks: ABS material, strong magnet.
Garage/Slopes Parts: ABS material, lead-free paint printing, built-in strong magnets;
Car: ABS material (roof, window, car body), POM material (wheels, front tire), TPU material (rear tire) + gear;

Product of Origin
Designed and made in Taiwan