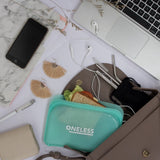 Oneless
ONELESS Reusable Bags
SKU: HKO1009-PIK-EC-R
The Greener Alternative to Plastic Storage Bags.
ONELESS reusable bags are made of 100% food grade silicone. They are plastic free, reusable up to multiple times and the greener alternative to plastic storage bags.
ONELESS Reusable Bags - The Greener Alternative to Plastic Food Storage

Key Features:

Safe to use at high and low temperatures ( -20°C to 230°C)

100% food grade silicone

Microwave safe, oven safe and suitable for sous-vide

Dishwasher safe

Freezer safe

Great for snacks

Convenient and multi-functional

Easy to seal tabs and easy to clean

BPA-free, non-toxic

Safe To Use At High & Low Temperatures

Temperature resistance is important in food processing where temperatures can vary from boiling hot to freezing cold. These bags are made of 100% food grade silicone and can function between -20°C and 230°C.

In hot temperatures, it keeps its shape and integrity without undergoing any heat-induced deformation. In cold temperatures, it stays elastic and does not disintegrate.

Kitchen Friendly

These bags are microwave safe, oven safe and even suitable for sous-vide. They can withstand high temperatures and have multiple uses in the kitchen.

They are freezer safe too and can be used to preserve food in your freezer, eliminating the need for bulky food storage boxes that do not store flat like these bags.

After each use, you can wash them with dishwashing soap or place them in the dishwasher as they are dishwasher safe.

Great for Snacks

Instead of single-use bags, these bags are reusable and are the greener alternative for food storage.

Store anything from sandwiches, granola, fruit and even banana bread!
Convenient & Multi-Functional

These bags come in three versatile sizes to accommodate varying sizes of your everyday items.

Don't feel like using it to store snacks or food? Use it to store your masks, tissue paper, hand sanitizer and wet wipes.
Easy To Seal Tabs, Easy To Clean

Instead of bowls or containers, it's ideal for use during your food preparation to prevent any spills thanks to its easy to seal tabs.

For example, you can make guacamole by smashing all the ingredients in it. After you are finished, you can either place the leftovers directly in the fridge (as it is safe even in the freezer) or clean it easily in the dishwasher.


Better Than Plastic Bags & Containers

Available In 3 Sizes & Colours

What you will get
1 x ONELESS Reusable Bag

Dimensions
Small: 19cm by 13.5cm
Medium: 22cm by 15.6cm
Large: 27cm by 23.5cm