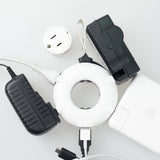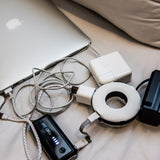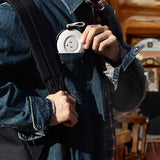 Mogics Power Bagel Travel Adapter V2
SKU: EGT1011-BLK-EC-R
The World's First Travel Power Strip and Travel Adapter.
Power strip: Charges 7 devices concurrently (5 power plugs + 2 USB fast charge)
Universal travel adapter: Works in 189 countries
When you're not travelling, it serves as the best power strip (or power ring), keeping your desk neat and impeccably organized. Sharing the power on-the-go and saving the space when you're alone.
*Includes 1 year warranty.
Mogics Power Bagel Travel Adapter V2
Designed for all travelers, it contains

Ring design with multi outlet for over 7 devices

92cm extendable power cable with Auto-lock Cord Stoppers

Integrated Replaceable Fuse


4 Universal AC Sockets (UK, EU, AU, US)

1 US AC Socket

2x USB Fast Charge Port
Fits 5 Power Plugs + 2 USBs

No more socket space problem! The unique ring design doesn't just keep it simple and handy, but also solves the everlasting problem of device plug conflict.

All you need? Just 1 power socket in your hotel room!
Worldwide Compatibility

Its center piece is a type A/B/C/E/F/G/I/J/L/N universal adapter that works in 189 countries.

To name a few, it works in countries like USA, Japan, Indonesia, Thailand, Malaysia, Australia, UK, Europe, France and Korea.

92cm Retractable Power Cord + Auto-lock Cord Stoppers

Easily access power sources with a longer reach when you're traveling with the retractable and integrated cord.

The integrated Auto-lock Cord Stoppers also allow you to adjust the length of the cord to keep it neat and organized.


Dual USB Fast Charge

It supports 2.0A USB Fast Charge with 2 USB ports for a more efficient charging experience.

Integrated Replaceable Fuse

With the Mogics Power Bagel, you not only get a fuse, you get a replaceable one to protect your electronics.

It has a spare 6.3A replaceable fuse inside to ensure extra safety and convenience when you're traveling.

Durable Carry Case

Protect your Mogics Power Bagle with the new carry case that is now more durable and dirt-resistant.

Black
White
What you will get
1 x Power Bagel V2
1 x Travel Adapter

Specifications
Input: 4 Universal (UK, EU, AU, US) AC Sockets + 1 US AC Socket
Output: 2 USB Ports,5V/2A(Share)
Power Limit: 1500W @240V or 750W @120V
Optional Multi-Adaptor (EU/UK/AU)
Fuse 6.3A
Cable Length: 92cm
Φ: 83mm, H:31mm
Weight: 118g


Best travel tool
As a frequent traveler, I bought one of the first version off a crowd source. As things go I thought it might be a good investment,but wasn't going to be surprised if it wasn't.
Instead, I've been greatly surprised by how often and how durable it's been. I've had it in Peru, Andorra, Costa Rica, Greece, Nepal, and more recently in Argentina and Chile.
If I'm in my room, youll find me simultaneously charging my watch, phone and laptop. When I'm hiking, I'll pull it out when I hit a village and offer other travelers the opportunity to charge their devise at the same time. It's not unusual to find yourself waiting for an open outlet to charge your devise when hiking through smaller villages. It's a great way to make friends of both locals and travelers alike.
For hiking it's my one luxury item. Yes it's a bit heavy (for backpacking) but so worth it!
Sturdy, yet to try out overseas.