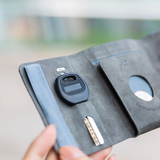 miniWallet
SKU: DCH1008-BRW-EC-R
The Expandable, Non-bulky Wallet. 
With an integrated elastic band and unique wrap design, the miniWallet expands to fit your cards, cash, key, and coins - without the bulk. Compact and practical, it has separate compartments to organise your cash, coins and key.

miniWallet Expandable (Brown)

Key Features
Flat and compact

Elastic band for extra expansion

Pull strap for easy card access

RFID protection
Flat and Compact

Thanks to its unique wrap design, you can slip in into your chest pocket without dealing with unwanted bulk.

It is optimised for compactness, regardless of the amount of cash or number of cards you store inside.


Extra Expansion

Never worry about losing one of your cards with the miniWallet.

The strong elastic band keeps it firmly closed and holds all your cards in place, even if there are many cards stored.

Easy Card Access

Access your card easily with a single pull on the strap.

Place the card back in and fold the strap over the card to secure it with its integrated magnet.

RFID Protection

Keep your credit cards secure in the insulated card-storage compartment for RFID protection.

This prevents fraudulent scans from thieves who want to steal your data.

Fast Scans

You can scan your card without having to remove it from the wallet - it's convenient when you're on-the-go.


What you will get
1 x miniWallet Expandable (Brown)

Specifications
Dimensions: 190mm X 96mm 1mm
Material: PU
Refill: 70mm X 91mm X 10mm
Texture: Napa Grain
Weight: 40g