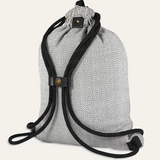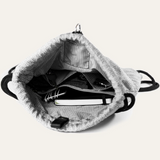 Loctote Flak Sack Sport I
SKU: TDS1010-DGY-EC-R
The Lightest Theft-Resistant Drawstring Backpack. 

The Loctote Flak Sack Sport I is the lightest water-resistant Flak Sack available. 

Its lockable design caters to those who are not able to constantly look after their belongings. It protects your belongings and keeps them safe from theft.
*Includes 1 year warranty.
Loctote Flak Sack Sport I
Key Features:

Slash-resistant fabric (A4 cut level)

Secure locking system

Reflective slash-resistant ropes

Water resistant interior (fits an iPad Mini)

RFID blocking pocket shields unauthorized scanning

Sternum Strap keeps ropes centered across chest

Slash-resistant Fabric

It is crafted from a woven layer of ultra-high molecular weight polyethylene (UHMWPE) and other state-of-the-art fibers.

This makes it truly secure.

Steel Reinforced Locking Strap and Solid Brass Lock

The steel reinforced locking strap and heavy-duty solid brass lock enable you to lock it and attach it to a fixed object.

It's almost impossible to cut, break or tear without extreme force or heavy tools.

Also, the solid brass lock is both secure and durable. Just set the lock to any combination of your choice.

Reflective Slash-Resistant Ropes

It is made with a cut resistant core interwoven with a highly reflective material for night visibility.

Thieves will not be able to cut it off your back.

Water-Resistant Interior

It is lined with a water-resistant nylon lining and equipped with a large water-resistant interior pocket crafted with an Aquaguard zipper to keep your stuff dry.

The interior pocket is able to fit an iPad Mini easily.

RFID Blocking Technology

Guard against unauthorized scanning by storing your credit cards in the internal pocket lined with a certified RFID blocking material.

Sternum Strap

The strap gives you that extra security and comfort.

By keeping the ropes centered across your chest, the bags stay secure with its weight comfortably distributed across your shoulders.

Vintage Grey
Sport Grey
What you will get
1 x Flak Sack Sport I

Specifications
Dimensions: 18" x 14"
Capacity: 12L
Weight: Approx. 0.57 kg (with lock)
Material: Ultra-high molecular weight polyethylene