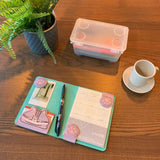 LHiDS Creative
LHiDS x HanHan MagEasy Folio (A6)
SKU: FSO1022-LBU-EC-R
$50
$59
You Save 15% ($9.00)
The World's First Modular Magnetic Planner Organiser!
MagEasy x HanHan is a collaboration between LHiDS and the author HanHan - who loves creating cute animal characters in round and chubby shape through drawings. Through this planner, you can note down important meeting notes, to-do-lists, plan your monthly and weekly agenda, organise your essentials and increase your productivity at work.
MagEasy x HanHan - Your Customisable Notebook Organiser
Key Features:

Personalised folio - a 2-in-1 organiser & planner

Includes a 2021 calender, monthly plan, weekly plan, to do list, meeting minutes, linear grid, dotted grid for drawing and blank pages

Strong furry magnets that hold your notes, name cards and cables firmly

Magnetic modules - can be used separately

Ultra portable, lightweight and slim
An Organiser & Planner At The Tip Of Your Fingers

Its fully-customisable and expandable magnetic modular design allows you to store your notes and essentials all in one place.

You can transport your compact stationery without worrying about missing an item or leaving it behind!
Fun-Size Planner For All Your Note Taking Needs

Keep track of your goals, note down your to-do-list, plan your weekly and daily tasks, jot down important meeting minutes, plan your ideas on the blank sheets and never forget an important event with our planner!
Strong Magnets with Firm Hold

The built-in magnets will hold your essentials firmly and securely. They are also TSA-approved and allowed on the flight if you are traveling.
Versatile Use of Magnetic Modules

The magnetic modules can be used separately in different ways.

Use it as a cable tie, fridge magnet or even to keep small items like paper clips and keys together.

Ultra Portable and Slim

At a thickness of 3mm, the MagEasy Folio (A6) fits easily in any handbag or backpack without unwanted bulk.

Only 230 grams and measures 15.5 x 12.2cm when folded, it is lightweight and perfect for you to bring out on the go.


What you will get
1 x MagEasy x Hanhan A6 Folio

Specifications
MagEasy Folio - A6:
Dimensions (Folded): 15.5 x 12.2cm
Dimensions (Opened): 15.5 x 24.8cm
Weight: 230g
Material: PU Leather, Magnets
Thickness: 3mm