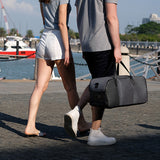 FlexPack Go
SKU: TTB1018-GRY-EC-R
The Most Functional Anti-Theft Duffle Bag.
The FlexPack Go is a travel duffle bag that has triple anti-theft security features. it protects your valuables and is designed to combine security, storage, convenience, comfort and beauty.
It is ideal for those who want to travel with a peace of mind.
*Includes 1 year warranty.
Key Features:

Double layer, explosion proof zipper

4:1 Folding Ratio. Collapses from a duffle to become compact and packable

The anti-theft system allows users to kick back and relax

3 types of packing methods to meet your different needs

It is a mobile energy source. It houses an outlet and storage space for your power bank

Traveling Made Easy & Secured With FlexPack Go
Flexible & Compact

It has a 4:1 folding ratio and collapses from a duffle. It has a flat expansion with a single channel zipper.

When not in use, it saves space as it can be stored compactly.


Scientifically Engineered Storage

Ample space for storage, housing your necessities – laptop, tablet, shirt, shoes, water bottle and more.

TSA Zipper Lock

Instantly lock your bag and secure your valuables with the built-in TSA-approved zipper lock.

YKK Double Layer, Explosion Proof Zipper

The zipper has a double coil chain that prevents it from being easily punctured with pens or other sharp objects.

This makes it harder for pickpockets to access the bag.

Extendable & Retractable Coiled Wire Lock

When you're outdoors and there is no one to watch your bag for you, the retractable steel wire coil lets you secure it to a lamp post so that it's harder for someone to take your bag away.


3 Types of Packing Methods

It has 3 different types of packing methods.

This allows you to have flexible storage for your items without worrying about whether they'll fit snugly.

Water Resistant Exterior

Keeps your items dry with its double layer rain protection.
RFID Magnetic strips

Keep your cards safe by blocking electromagnetic fields of unauthorized credit card scanners. This prevents your cards from being scanned fraudulently by thieves.
Mobile Energy Source

Comes with an external USB charging port that connects to the inside of the bag.
What you will get
1 x FlexPack Go

Specifications
Dimensions: 15x 10.5 x 4 inches
Capacity: 36L
Weight: 1.38kg
Material: Polyester