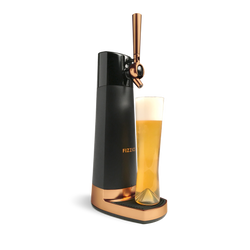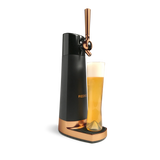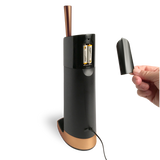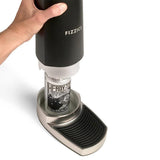 Fizzics DraftPour
SKU: HKW1007-ICE-EC-R
Fresh From The Tap, Nitro-Style Draft Beer Anytime, Anywhere.
These uniformed, tiny sized bubbles create the perfect density that delivers enhanced aroma, flavor, and mouth-feel Fizzics is famous for. Compatible with any style of beer - IPAs, Pilsners, Brown Ales, Stouts, Porters, Lagers, etc and does not require any C02 cartridges or nitrogen.

DraftPour runs on either USB or battery power (2 AA) so you can enjoy fresh from the tap taste at home, in the backyard or easily take it to parties!
As Seen On Shark Tank!
All 6 Sharks agree, canned and bottled drinks taste better through a Fizzics machine.
*Includes 1-year warranty
Fresh From The Tap, Get

Nitro-Style Draft Beer

With Fizzics.
Anytime. Anywhere.

Key Features
Micro-Foam Technology - Convert your favorite cans or bottles of beer into a nitro-style draft

All Beer Styles - Nitro-style draft flavor and taste from all beer styles, including IPAs, Pilsners, Brown Ales, Stouts, Porters, Lagers, etc.

Universal - Fits all size cans and bottles

Portable - USB or 2 standard AA batteries(not included)

Complete - Does not require any Co2 cartridges or nitrogen
Elevated Aroma. Smooth & Creamy.
Your Beer Tastes BETTER.
Fizzics Micro-Foam™ converts any beer's carbonation into uniformed sized bubbles that deliver enhanced aroma, flavor, and mouth-feel. DraftPour makes every beer taste better. It's not even close.

Micro-Foam™ not only is visually appealing, it seals in the taste by delaying the degradation of the beer due to oxygenation which preserves the flavor, ensuring your first sip of a DraftPour beer will be as fresh and smooth as the last. You'll thank us.
Get Nitro-Style Draft Beer From Any Can Or Bottle!
Fits all size cans and bottles, including 500ml and 750ml bottles. Nitro-style draft flavor and taste from all beer styles, including IPAs, Pilsners, Brown Ales, Stouts, Porters, Lagers, and more.
Lightweight
Large DraftPour design, great addition to your home bar. Weighing not more than 1.82KG, it is easy to bring along to your dinner parties and convenient enough to bring to camping or out on the patio.
Portable
Powered by USB or 2 X standard AA batteries (not included), ideal for outdoor activities.
System Cleaning
DraftPour must be cleaned every time after use. Do not leave beer residue to dry in the machine.
Ensure a perfect pour
Always use a clean glass and rinse with cold water prior to use. To maintain flavor, do not freeze or frost your glass.
Get the

perfect beer

straight off the tap with Fizzics

1. Place your beer can or bottle in the DraftPour System
2. Pull for beer and push to add the foam head
3. Enjoy your transformed beer!


See why the press

loves

it too

Know someone who loves beer? Then, ladies and gentlemen, I invite you to start your holiday shopping very early.
Beer Always on Tap—Bye-bye brewery tasting rooms! Let dad enjoy his favorite beers from the comfort of his home or on-the-go.
Can this $100-$130 gadget transform any can or bottle of beer into fresh tasting, creamy and foamy draft quality beer?
Real reviews

by beer lovers from all over the world

After getting my hands on the Fizzics DraftPour, it is easy to see that it pours a better beer in almost every situation. The aroma is strong, the mouthfeel is smooth, and the flavor is heightened. The DraftPour turns a standard beer into a "nitro-like" beer.
I personally recommend the Fizzics DraftPour Beer Dispenser to any and all beer lovers out there. It is an outstanding product that will change the way you enjoy beer at home.
It worked. It made it taste like a draft beer. What the Fizzics did was remove that sour, funk taste that comes in cheap canned pilsners. It's not a huge taste, it's not the dominant flavor, but right there at the back of your mouth is that small tinge.
Perfect

for gatherings, holidays or as a housewarming gift!

The Fizzics Draftpour is a personal beer tap that gives you the flexibility to enjoy a cold draft anywhere.

Perfect for holidays, birthdays, graduations, father's/mother's day, weddings, showers, and housewarming gifts! Fizzics DraftPour will be enjoyed for years to come by friends and family who love draft beer!

Give the gift of great beer with the Fizzics beer bottle dispenser.
What you will get:
1x Fizzics Draftpour (colour of your choice)

Dimensions:
Main Body: 45cm tall 1.82kg