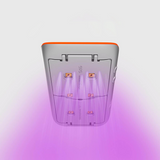 59S
59S UV LED Portable Sterilizer X1 (Silver With Orange)
SKU: EUV1002-SWO-AV-T
Kills 99.9% of germs, viruses and bacteria in less than 3 mins!
A mini UV Light Sterilizer that is powered by 6x UVC LED. It's portable and compact - giving you the flexibility to clean whenever needed. Disinfect your frequently used items like masks, keys, airpods, handphone and more. Use it two ways - handheld mode (for multiple items or large items) or the standing mode (for single item). 
59S UV LED Portable Sterilizer X1 (Silver With Orange)

Disinfect & eliminate 99.9% of germs & viruses!



Key Features:

Anti-germ rate up to 99.9%

Lightweight and portable - use it at home, travel or office

More convenient than alcohol disinfection

Two modes of use - standing or handheld

Anti-germ Rate Up to 99.9%

With 6 UVC LED, it disinfects fast and effectively. Scan back and forth 5 times on the surface at a distance of 1 inch.
Disinfect single items, multiple items or even large items!

Use it two ways - handheld mode or standing mode.

To disinfect a single item, use it in standing mode for 59 seconds. Just unfold the holdings and fit the item underneath it.

For multiple items, use it in handheld mode for 180 seconds.

Lightweight and Portable

Great for home, travel or office. Slip this compact sterilizer in your bag and sterilize items wherever you are.

More Convenient than Alcohol Disinfection

The sterilizer is able to sterilize most small items like your phone, eyeglasses, earpiece and mask.

Instead of using alcohol wipes or hand sanitizer to wipe these items down, which is a cumbersome process, just sterilize them in 59 seconds with this sterilizer.

This is useful for when there is no toilet nearby or if your skin is irritated by the alcohol in some sanitizers.
What you will get
1 x 59S UV LED Portable Sterilizer X1 (Silver With Orange)

Specifications
Model: X1
Color: Silver with Orange
Net Weight: 200g
LED QTY: 6pcs
LEDs Lifetime: 10000h
Power: 4W
LED wavelength: 260-280nm
Input Interface: Micro USB
Rate Input: 5V=800mA
Size: 140X69X17mm