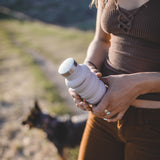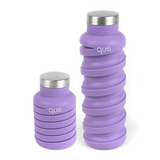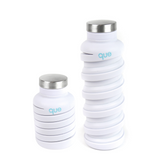 que Bottle
SKU: HDB1040-STG-EC-R
The Collapsible & Lightweight Bottle!
BPA-Free & Non-Toxic

Lightweight and compact


Taste and odor-free

Stain and bacteria resistant

Dishwasher safe

Leakproof & Shockproof

Safe to use for both hot (up to 

60°C)

and cold beverages

1 Bottle = 2 sizes!
An Eco-friendly, Convenient, & Stylish Alternative To Single-use Plastic Water Bottles

How It Works:
Cap off to expand or collapse. Our patented spiral design shrinks the bottle to half of its size without sacrificing the stylish appeal, making it the perfect travel companion.

How It Feels:
Soft to the touch, lightweight, flexible and shockproof. que Bottle is made of 100% food-grade silicone - a material from natural resources such as sand. Better for you and the planet.

Take Home A Que Bottle Today:
- BPA-Free & Non-toxic
- 100% Food-grade Silicone
- Dishwasher Safe
- Taste & Odor Free
- Lightweight & Compact
- Leakproof & Shockproof
- Wide Mouth for Ice Cubes

Safe for High Temperature Beverages

Silicone is safe for hot liquids up to 450°F (230°C) but we do not recommend using it for liquid temperatures higher than 140°F (60°C) to avoid burning your hand while holding it.

Suitable for Cold Beverages

Wide mouth opening of the bottle allows you to fill it with ice cubes easily.

The Perfect Travel Bottle For Your Everyday Adventures

What you will get
1 x que Bottle

Specifications
Expanded height: 8.4 in
Collapsed height: 4.8 in
Weight: 6 oz
Diameter: 2.8 in
Expanded capacity: 20 fl oz (600 ml)
Collapsed capacity: 8 fl oz (235 ml)