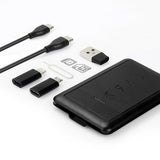 KableCARD
SKU: EMA1011-WHT-EC-R
The All-In-One Multi-Functional Cable Essentials For Your Phone.

The KableCARD integrates all the cables you use into a credit-card sized gadget. Its compact size fits in your wallet, purse, laptop and backpack. It is an organized and non-bulky way to keep all your cables on you.
*Cable and adapter 3 months warranty, others 1 year warranty.
Key Features:

Small and light, credit card size

6-in-1 charging cable

SIM ejector pin

2x nano-SIM safekeeping compartment

Memory card reader

Built-in wireless charger

Doubles up as a phone cradle with ambient lighting

Section
Drop element here!
Efficient and Organized

While everyone has to dig around their bag looking for the right cable, you have all your cables organized for you neatly in the KableCARD.

With it, you never have to worry about which type of cable to bring.


6-in-1 Interchangeable Cable

Regardless of its model, you will always have a charging cable for your smartphone or devices

• Type A – Type C
• Type A – Lightning
• Type A – Micro
• Type C – Type C
• Type C – Lightning
• Type C – Micro


Built-in Wireless Charger

You can use it as a wireless charger to charge your devices.

When it is plugged into a power source, it doubles as a wireless charger for your devices.


SIM Kit for Traveling

It includes a SIM ejector pin and 2 nano SIM card storage.

When you're overseas and need to switch out your existing SIM card with a local SIM card, you can do it easily with the KableCARD.

Memory Reader

Reads memory cards and supports both Type A (Standard USB) and Type C ports.


Phone Cradle

Watch a movie on your phone, hands-free anywhere and everywhere.

Ambient Backlight

Includes a backlight that protects your eyes and prevents eye strain.


Comes in 2 Different Colors
Black
White
What you will get
1 x KableCARD

Specifications
SIM Ejector Pin
Type-C cable (with CC pin)
Memory Reader (T-flash card)
1W LED
Nano SIM
Weight: 50g
Supports Type-C/Type-A/ Micro/Lightning
Supports Windows/Mac OS
WHD: 86x55x8.6 (Maxima) mm
TYPE-C 5pin cable (G/V/D+/D-/CC)
Same definition as Apple MacBook /MacBook Pro Charging Cable

Warning
Do not bend over 60 degrees
Do not stare directly at LED
Keep away from children
Keep it dry