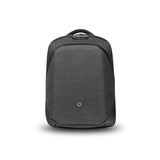 ClickPack Basic
SKU: THB1505-GRY-EC-R
The Anti-Theft Backpack.
The ClickPack Basic is a multi-functional backpack that keeps your valuables safe and secure.
It comfortably fits a 15.6" laptop or a 10" tablet and consists of quadruple security function:
- Prevention of theft inside the backpack by TSA lock
- Prevention of removal by stainless metal wire lock
- Prevention of pickpocketing by YKK's latest fraudulent opening and closing fastener
*Includes 1 year warranty.
Thickly padded, velvet lined compartments

Fits a 15.6" laptop or 10" tablet. Keeps your precious belongings safe and secured.
Hidden Compartments And Pockets

Keep important items and your passport ultra-safe in a hidden compartment pressed against your back or in shoulder-strap pockets.

Anti-Theft Features

Instantly lock your bag and secure your valuables with the built-in TSA-approved zipper lock.

Also, the stainless metal wire lock and YKK's latest fraudulent opening and closing fastener makes it harder for pickpockets to access the bag.

Water Resistant Exterior

Keeps your items dry with its double layer rain protection.
RFID Magnetic strips

Keep your cards safe by blocking electromagnetic fields of unauthorized credit card scanners. This prevents your cards from being scanned fraudulently by thieves.
On-The-Go USB Charging

Comes with an external USB charging port that connects to the inside of the bag.
Black
Grey
What you will get
1 x ClickPack Basic

Specifications
Dimensions: 17.7in x 11.8in x 6.3in
Capacity: 17L
Weight: 1kg