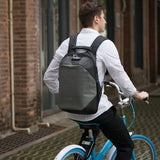 ClickPack Pro
SKU: THB1504-GRY-EC-R
The Truly Slash Proof Anti-Theft Backpack
Designed to combine security, storage, convenience, comfort and beauty, ClickPack Pro is the safest and most functional anti-theft backpack by Korin yet.
*Includes 1 year warranty.
Key Features

Retractable metal wire lock

YKK double layer explosion proof zipper

Credit strip protection

Slash resistant fabric

Shock proof

Easy charging technology

Quick access pockets

Scientifically engineered storage system

Water resistant

Ergonomic weight distribution design

Road security
The Best Functional Anti-Theft Backpack
5 Major Storage Compartments For Practical Pocket Separation

Shock absorbent double layer thick velvet that protects your phone, tablet or laptop - fits a 15.6" laptop.


Removable multifunctional electronic and toiletries zip pouches. Customise it the way you like it!


Slash Proof Military-Grade Glass Fibre

Made of ultra-fine industrial level polyester silk and military level glass fiber.

This material is 40% stronger than Kevlar in a strength-to-weight ratio and is 2x stronger than carbon fiber.

There are no unsightly marks left on the bag if pickpockets try to cut through it.

TSA Zipper Lock

Instantly lock your bag and secure your valuables with the built-in TSA-approved zipper lock.

Extendable & Retractable Coiled Wire Lock

The stainless metal wire lock and YKK's latest fraudulent opening and closing fastener makes it harder for pickpockets to access the bag.

The maximum bearing strength is less than 50kg.

YKK Double Layer, Explosion Proof Zipper

The zipper has double coil chain, that prevents it from being easily punctured with pens or similar sharp objects.

Built-In Reflectors

Enhanced road security with our built-in reflectors that can be seen up to 100 feet ahead.

Multi Purpose, Be Prepared For Anything

Compartments available for you to put your cards, cables and keys. It also houses a rain cover at the bottom of the bag to keep your wet umbrella.
Unique Weight Reduction System

Carry your pack without breaking your back. Our wrap around shoulder straps reduce and evenly distribute the weight on your back.
Double Layer Waterproofing

Keeps your items dry with its double layer rain protection.
RFID Magnetic strips

Keeps your credit card information safe and private from contactless credit card skimming / digital theft.
On-The-Go USB Charging

Comes with an external USB charging port that connects to your power bank inside of the bag.
What you will get
1 x ClickPack Pro
1 x RFID bag built inside the backpack
2 x toiletry bags
1 x rain cover


Specifications
Dimensions: 17.7in x 11.8in x 6.3in
Capacity: 17L
Weight: 1kg