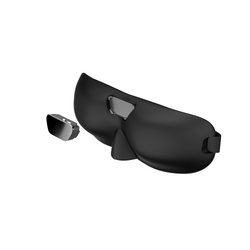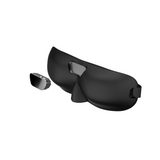 WMP
SleepMagic - The Smart Anti-Snoring Eye Mask
SKU: EGO1018-BLK-EC-R
The Smart Anti-Snoring Eye Mask
The most effective solution to stop the snoring and make you sleep better. Smart, compact, and super comfortable!

*Includes 1-year warranty

Frustrated By Your Partner's Loud Snoring?
Avoid Ruining Your Relationship & Pushing It to Its Breaking Point!

Sleep deprivation can cause a real rift in your relationship. Your snoring keeps your partner awake for hours and affects his/her well-being.

This sleep deprivation spills over into your partner's work day and affects his/her focus. Eventually, your partner gets frustrated and has to sleep apart from you just to get some restful shut-eye.
Introducing SleepMagic - The Smart Anti-Snoring Eye Mask
Key Features:

Compact and lightweight

Smart recognition technology

Captures snoring and sleep data via mobile app

Adjustable sensitivity and intensity via mobile app

Easy to use


Made of ecological soft high-density sponge

Fast charging
Experience Quiet Sleep Anytime, Anywhere
Compact and Lightweight

SleepMagic only weighs 32g so you can take it with you wherever you go.

Use it at home, on the plane, in the office and even in your car.

Sleep comfortably and quietly without disturbing other people.

Trash Snoring Aids That Don't Work

Snoring aids in the market have a reputation of being uncomfortable and impractical.

Often, these snoring aids solve the surface level issues, but do little to improve the underlying situation.

In contrast, SleepMagic is comfortable and can be worn to bed comfortably.

Not only does it reduces the noise from snoring but the vibrations help to send signals to the brain so that the snorer become accustomed to these signals and gradually improves on his/her snoring.

Identifies Snoring Sound and Intervenes
Smart Recognition Technology

With the advanced bone conduction and sound recognition technologies, SleepMagic can precisely identify the sound of your snoring.

Once identified, it will begin to work by giving out 1 out of 36 levels of vibrations, according to the intensity and severity of your snoring.

The vibration sends a signal to your brain to tell it to relax your throat muscles and open up your airways, all without disrupting your sleep.

Monitor Your Snoring and Sleep Data

Use our mobile app to see your snoring data and sleep data. The app tracks information like the number of snores stopped, the average decibel of your snores and even your sleep duration.

Compare data across different time durations ranging from one day, one week or one month.

Easy to Use

When you turn it on, it will automatically enter the preset working mode, making it easy for everyone, even the elderly, to use.

No more fiddling with multiple buttons trying to figure out if it's set properly. Just turn it on and you're good to go!
Comfortable

It is made of ecological soft high-density sponge for the best comfort and fit so you can sleep comfortably and snore-free.

Fast Charging

It takes about two hours to fully charge the battery.
When fully charged, the battery can last for two nights. It is recommended to charge it every day.

Scan the QR code to download the mobile app

Available on App Store and Play Store

Scan the QR code to install our mobile app on your phone and start monitoring your snoring and sleep data today!

Once downloaded, you can adjust the sensitivity and intensity of your SleepMagic.
Frequently Asked Questions

What you will get
1 x SleepMagic Anti-Snoring Eye Mask
1 x Charging cable
1 x User manual

Specifications
Material: Ecological soft high density sponge
Weight: 32 g
Battery capacity: 80mAh
Applicable mobile phones: iOS 7.0 or later / Android 4.3 or later; Bluetooth 4.0